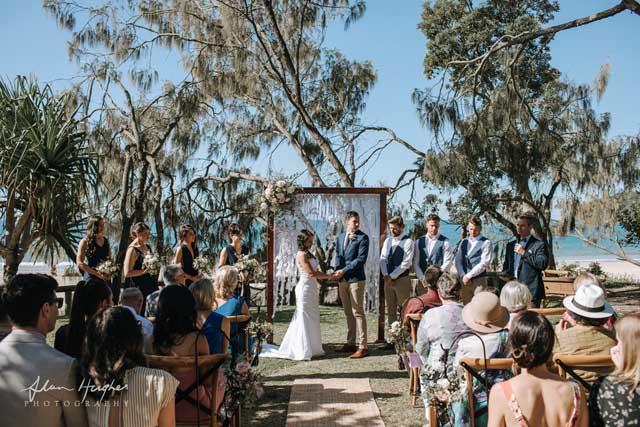 Wedding Ceremony Packages
This is the moment ………
The moment you've dreamed about, the moment when all heads turn to see you looking amazing, walking down the aisle toward the love of your life.  It's that WOW moment filled with love and emotion.
At Blush Wedding & Events we know how special and romantic that moment is when a couple, so in love first lay eyes on each other on the day of their marriage. It's our job is to set the scene for this memorable moment.
Whether your personal choice for your Ceremony is barefoot on a beach, a formal church service, or a relaxed gathering at a private residence, garden, park or property, we have the furnishings and décor to set the scene for a memorable event.
Ceremony choices may be tailored to suit individual requirements.
Photos are only to demonstrate the theme of the package, for actual specified items please refer to your showroom appointment. Please note – GST is NOT included in these prices / Floristry is not included in these prices but can be sourced through our preferred Floristry Suppliers
*Delivery, set-up & pack-down inclusions are applicable to local areas only Maroochydore, Alexandra Headland, Mooloolaba, Buderim.  Other areas may incur an additional charge dependant on location and accessibility.
Classic Blush Ceremony Package – $700
Welcome Sign with Easel
24 White Americana Chairs
Aisleway Carpet/Natural Woven Jute Aisle Runner
Registry Table with 2 White Americana Chairs
2 Post Archway of your choice decorated with White Chiffon Swagging and artificial posies
6 White Bollards with White Chiffon Swagging or Shepard Hooks with hanging decor item
Delivery, Set-up & Pack-down included*
Boho Ceremony Package – $900
Welcome Sign with Easel
12 x Natural Timber Crossback Chairs
4 x Natural Timber Bench Seats
Assorted Cushions for Bench Seating
Shepherds Hooks with Lanterns or Macramé hanging pots
Natural Seagrass Aisleway Runner
Registry Table with 2 x Natural Timber Crossback Chairs
Hardwood 2 Post Arch with beautiful Macramé curtain, or Ribbon & Feather curtain or draped with Chiffon Swagging and Posies
Delivery, Setup & Pack-down included*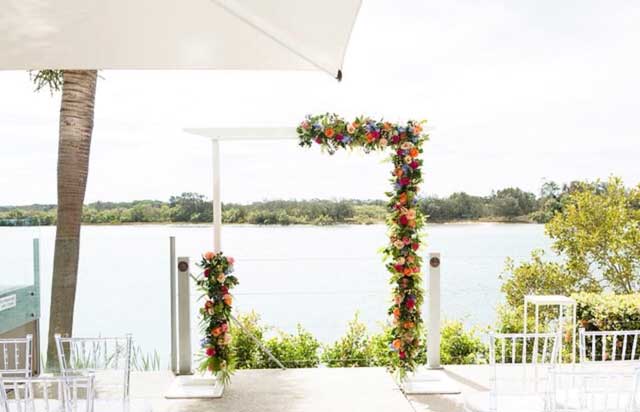 Blushing Rose Deluxe Ceremony Package – $950
Welcome Sign with Easel
30 x Clear Tiffany Chairs with White Cushions
1 x 2 Post White Arch with Chiffon Swagging (Flowers are at an additional cost)
6 White Bollards with White Chiffon Swagging or Shepard Hooks with hanging decor item
Fresh Rose Petal Aisleway
Registry Table with 2 x Clear Tiffany Chairs
1 x Bucket of White Parasols (6)
Dressed Water station with Metal Ice Tubs filled with Ice and Bottled Water
Delivery, Set-up & Pack-down included*
Hamptons Beach Ceremony Package – $850
Welcome Sign with Easel
24 White Americana Chairs
Aisleway Carpet/Runner in White or Natural Woven Jute
1 x Set of Natural Bamboo or White Aisleway Bollards with soft white swagging and artificial posies
1 x Four Post White Bamboo Canopy draped with soft white swagging
Registry Table with 2 Americana Chairs
Delivery, Setup & Pack down included*